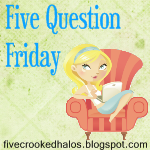 Five Question Friday is hosted by: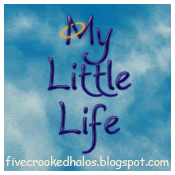 1. Have you ever had roommates?
The only roommates I've ever had were my sisters, but then again, I still live at home. I currently don't have any "roommates".
2. How many names do you/your children have? (i.e. Prince Charming William Phillip Arthur Louis John Jacob Jingleheimer-Schmidt)
I don't have any children, but I am catholic. With that being said, I have 4 names: first, middle, confirmation, and last.
3. Did you watch the Royal Wedding?
Nope. The TV at work was on CNN that day, so I watched the highlights, but I didn't see the point of getting up at 5am to watch it live.
4. What is the messiest room in your house?
We are moving this weekend, so currently the messiest room in the house is probably the dining room or living room.
5. What is your ideal mother's day?
My ideal mother's day is just to spend time with my family. I'm very much family oriented, so when special occasions happen, I like to be a part of them.
*JRB