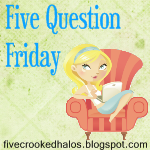 Five Question Friday is hosted by: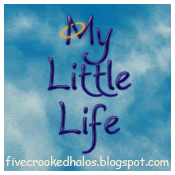 1. Tube socks, calf socks, crew, ankle, none?
(From
@ThisDaddys_Blog
)
Ankle socks! I don't like them above my ankle unless it's Winter, and cold outside.
2. Was your child's (children's) name a mutual decision or was it a debate? If you don't have children, do you plan on giving your spouse a say, or do you have a name you MUST have, regardless if your other half likes it or not?!
(From
@momtodh
)
I currently don't have any children, nor am I expecting at all, but I think we would decide on names together. I don't think it's right that couples have one person that has all the say in the relationship.
3. What is your favorite type of weather?
(From
@TheSpunkyDiva
)
Springtime!! I love weather in the 70s because it's not too hot, but warm enough I don't need a jacket or long sleeves.
4. If left to your own devices, what time would you wake up every day?
(From Sandy at "
Pardon My Dust
")
When I sleep in without an alarm, I usually sleep until about 10 am, but I've been known to sleep in past noon.
5. Have you bought your cemetery plots yet?
(From Pam at "
Troop Petrie
")
I'm only 25, and I don't have the money for something that might not happen for quite some time.
*JRB