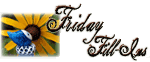 These fill-ins are provided by Friday Fill-Ins.
1.
Make It or Break It
is my favorite TV show (or movie) because
it's not like most of the drama shows on TV .
2. Go to page 45 of the book you're reading or of the book closest to you; go to the 6th paragraph and make a sentence out of 7 words from it:
The dispatcher had a daughter in water.
3. I am
a child at heart.
4.
I'm in love with
long walks.5. Take some time to
enjoy the little things in life.
6.
Everyone
needs a bit of
fun.
7. And as for the weekend, tonight I'm looking forward to
relaxing with my love,
tomorrow my plans includ
e moving things and cleaning our new house
and Sunday, I want to
enjoy the day with my mom and grandma because it's Mother's Day!
*JRB