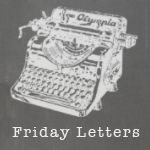 Dear Brain,
Thanks overanalyzing unimportant things. Freaking out is something I love to do.
(Sarcasm finished. Promise.)
Dear Work,
I'm so glad I was able to get a lot of my to-do list finished this week.
I know I'm off today so I can't cross more off, but I'll be back at it tomorrow.
Dear Random Customer,
You made my week yesterday.
After my shock and surprise, I was able to laugh about it and even blog about it! :)
Dear Friday,
I love your weather today. Cloudy and breezy and I don't have to be stuck at work for it?
Awesome!
Dear Zach,
Thank you for keeping me sane. You are amazing.
I don't know what I would do without you.
I love you so very much.
Love always,