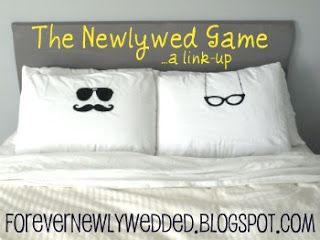 I know we're not married yet, but we've been together for over 4 & 1/2 years and know each other pretty well, if I do say so myself. ;)
1. What is the worst thing that happened on your wedding day, if anything?
Since we're still planning our wedding, we can't answer this question because we haven't had our wedding day yet.
2. Who is the better driver?
My Answer: Me
Zach's Answer: I would say you.
3. If someone had to play your spouse in a movie, who would it be?
My Answer: Zach Braff
Zach's Answer: I don't know enough people to make that decision.
4. What your spouse's favorite comfort food?
My Answer: Candy
Zach's Answer: Ice cream
5. Which one of you hogs all the covers in bed?
My Answer: We don't live together right now, but when we go on vacation, I usually am the one to hog all the covers.
Zach's Answer: I don't know, but you probably when we do share a bed.
6.
The saying "opposites attract must be true because
my spouse and I couldn't be any more different when it comes to _________?
My Answer: Music (I'm a country music fan.)
Zach's Answer: Music (He can't really stand country music.)
7. If your spouse won $5000, what would they spend it on?
My Answer: My first answer would be the lottery, but after thinking about it more, he loves to travel.
Zach's Answer: Clothes (and all it's accessories)
8. If your spouse could be married to any famous person, which would it be and why?
My Answer: Natalie Portman
Zach's Answer: Dane Cook
9. Who controls the remote??
My Answer: Neither of us, really
Zach's Answer: You
10. If your spouse was a superhero, what would their "super power" be?
My Answer: Read minds
Zach's Answer: Super speed
(We were both completely wrong on this question. I probably would rather fly, and he would probably rather shape shift, have super speed, or fly.)
What are you and your hubby's answers to these questions?