I love this link up. :)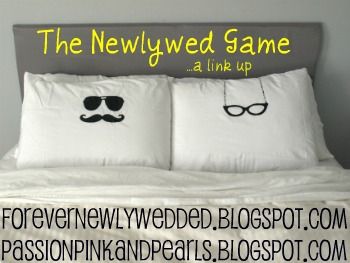 1. How long were you dating your spouse before getting engaged?
My answer: One month shy of 4 & ½ years.
Zach's answer: Almost 4 years and 5 months.
2. Do you remember your first big fight, if so, what was it about?
My answer: We haven't really had a big fight yet. The biggest tiff we've had was about something one of my friends said. It's a little too personal for blogland. Sorry, ladies!
Zach's answer: I don't think we have actually had a big fight.
3. Who said "I love you" first?
My answer: Zach.
Zach's answer: That would be me.
4. What is your spouse most afraid of?
My answer: Losing me and then having to go through dating again.
Zach's answer: Giant alien squids from Neptune...........I'm joking umm I would have to say being alone.
5. Who uses more hair-care products?
My answer: Me, definitely.
Zach's answer: Jess no doubt.
6. Who initiated the first kiss? How was it on a scale from 1-10?
My answer: Zach did. I would say it was a 9 out of 10.
Zach's answer: I think it was a mutual thing (probably me though) and because we are both awesome people it was a 10.
7. You are on your way out, and need to turn around because someone forgot something... was it you or your spouse who most likely forgot something?
My answer: Probably me. I've left my phone at his house a few times.
Zach's answer: I can almost 100 percent say it was me.
8. Who takes longer in front of the mirror? You or your spouse?
My answer: Me. Always. Girl's gotta look good!
Zach's answer: Jess once again.
9. What would your spouse name your children if you had one girl & one boy?
My answer: For a boy it would be Malachy, for a girl it would be Sybella.
Zach's answer: Ummmm that is a good question............
10. If you were able to give away one thing that your spouse owned, what would you choose?
My answer: Probably the random toys around his room.
Zach's answer: Her country music.
Were you the first to say I love you? Did you initiate the first kiss?