I know, it's another late post, but I had a pretty busy day today.
But you can read about that tomorrow. ;)
Anyways, I'm linking up for: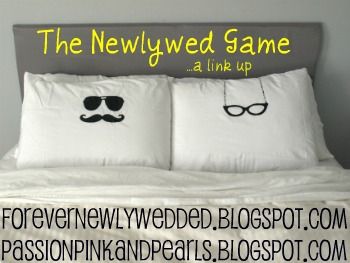 1. Who does the laundry in your home, you or your spouse? Any good stories?
Jess: We both do our own laundry at the moment, but I'll probably do it more when we live together.
Zach: Both.
(He's a man of many words.)

2. If your spouse had to eat at one restaurant for the rest of their lives, what would he or she pick?
Jess: Subby's. We went there the other night and everyone behind the counter knew who he was.
Zach: Bob Evans. (I'm surprised he didn't say Red Robin...)

3. Are you or your spouse better at cooking? Any good stories?
Jess: I'm probably more likely to try a new recipe, but I think we're about the same cooking level.
Zach: I don't know...I think I'm worse at cooking.

4. Which one of you is more concerned about their "fashion"?
Jess: Probably me.
Zach: Jess

5. Ideally, if you don't have them already, when does you spouse want to have children?
Jess: In FIVE years.
Zach: Five years.

6. Who planned dates when you were dating? And what was one of your favorites?
Jess: Our dates are pretty much last minute, so we just decide on them together. I think my favorite would have to be when we just hang out and enjoy each other's company.
Zach: We pretty much both plan them, they are kind of spontaneous. My favorites are any I spend with Jess.
(Dawww!!!)

7. What's been the toughest part of being a newlywed?
Jess: Seeing as how we're not married yet, I have no idea.
Zach: Having all of our stuff in one place. I'm a pack rat and she has a lot as well. And our sleep pattern. I'm a night owl and she can't stay awake past 11:30-midnightish.

8. Who is the best with the finances?
Jess: Me.
Zach: Jess. No doubt.

9. Who is the strict one?
Jess: I don't think either of us is strict.
Zach: I think we're pretty laid back.

10. What will you plan to do for your first anniversary? Or if you've already celebrated your first anniversary, what did you do?
Jess: I have no idea. I don't even know what we're doing for our honeymoon.
Zach: I have no idea. But it will be spectacular.

BONUS QUESTION: Assuming you were expecting something a little special for Valentine's Day (as in yall planned on doing something, giving something, etc), how did your spouse do? Share it! Again, PG people, please.
Jess: A bear with a fabric rose and chocolate? He did wonderful.
Zach: I got a pair of sung
las
ses to replace my broken ones. I think that's pretty special.
(He's funny, right?)
Come back tomorrow for my InstagrAmazing weekend!