It's time for!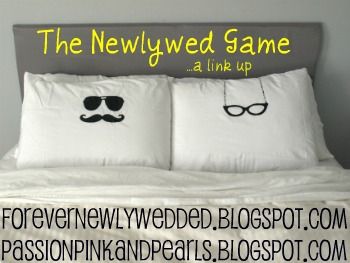 with Karla and Veronica!
This week's questions and answers are as follows. :)
1: What was it about your spouse that made you think they were "the one"?
Me: He never ceases to amaze me with his sweetness. He can always find a way to make me smile.
Zach: The way she looks at me. She can always makes me smile.
2: What is your spouse's most annoying habit?
Me: Poking me at the most random times.
Zach: Getting distracted too easily or not paying attention.
3: Does your spouse have to sleep on "their side of the bed", if so, which side?
(if you're laying in bed looking up at the ceiling, which side?)
Me: Yes. In his bed he always sleeps on the right side.
Zach: Not sure. (Yes. I always sleep on the left side of my bed. I guess that works out for when we're married!)
4: How are you planning to spend Valentine's Day? (simple or outrageous)
Me: Definitely simple. We're not big fans of the day itself.
5: Who usually ends up trying to resolve an argument (aka..being the "bigger person")?
Me: I think we both do. As long as we get the other person to see our reasoning, all is well.
Zach: Mutual, we both put equal effort.
6: How many kids do you plan to have one day, if any?
Me: I've always wanted 2 or 3, but since Zach didn't want more than one, if any, we compromised and have decided to have 2 kids. In FIVE years. Unless a higher power changes our plans. :)
Zach: If it was my choice, one or less, but since she would like more, probably two.
7: What is your spouse's best friend's name & do you get along with them?
Me: Scott and we most certainly do.
8: If your spouse one day told you that they are an ex-convict, how would you react?
Me: Well, I would be shocked, but then I would want to know the whole story.
Zach: I would say "Hmm, that's cool dear. Who did you kill?"
9: Do you wish your spouse would stop doing a particular routine?
10: Did the honeymoon go exactly as planned?
Me: I don't know. We still have 16 months until then, but I hope so!
I like this link up. It let's you all get to know Zach and I as a couple a little more each week. :)
Happy Friday!