As you know, Zach and I are planning our wedding.
So we're not newlyweds. Yet.
But I love this link up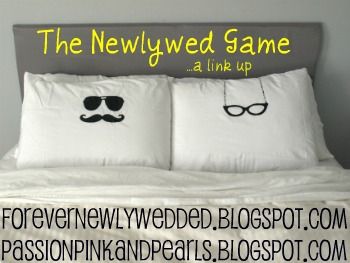 And Zach doesn't mind doing it either. ;)
1. What is your spouse's favorite animal?
Jess: Cat or owl or rabbit. He wants to get a white rabbit in the future and name it Winston.
Zach: It's either a cat or an owl…..I know she has a fascination with them.
(I just like cats.)
2. What does your spouse do..what's their occupation? Explain as much as you possibly can.
Jess: He is a library aide at a local public library and he's trying to get a GA position at Wright State University.
Zach: She is the Admin Coordinator at the Maxx of TJ's and does pretty much everything there…also she is a substitute manager (Key Carrier) as well.
(Maxx of TJ's?)
3. What is your spouse's favorite pro sports team?
Jess: Well in his proposal speech, he said he was a Brown's fan, but he only says that because his grandpa is and I'm a Bengal's fan.
Zach: Cincinnati Bengals.
4. If your spouse could retire anywhere, where would they choose?
Jess: Europe. Or maybe Ireland. Or maybe he's thinking I'm nuts and just wants to stay in the country.
Zach: Somewhere nice maybe along the coast.
5. What is something on your spouse's bucket list?
Jess: To be a famous poet and author.
Zach: I think go to Italy might be one of them.
6. What is your spouse's favorite candy or sweet?
Jess: Starburst Jelly beans. Or almost all jelly beans. He loves the red ones.
Zach: Reese's cups or Reese's pieces.
(I love my chocolate and peanut butter!)
7. What is something your spouse would love to have in their dream home? Like a specific room they want, etc.
Jess: A library. Right now his bedroom kind of looks like a library, but in his home he wants separate rooms for his books and bed. ;)
Zach: Maybe a nice library for her to sit back and read her books.
8. If your spouse could only watch one movie over and over for a week, which one would it be?
Jess: Does it have to be a movie? Because I could see him watching a season of King of the Hill over and over.
Zach: That is a really difficult question…..honestly I have no idea maybe 50/50 or P.S. I Love You.
9. Who chose the wedding colors? Your or your spouse? What were they?
Jess: We both chose them. They are our favorite colors. Emerald and pink.
Zach: I think it was a mutual thing…..emerald and pink.
10. If your spouse could teach a monkey one trick, what would they have it do?
Jess: He would probably train it to do something silly. He is a kid at heart.
Zach: Be a reliable and productive employee at her work so she could have another employee to count on.
(What?!)
What about a rec room to be able to watch the Bengals?