As I said on
Tuesday
, it was going to take me all week to recap my weekend. Well here is part two! And a perfect day for it, since it's Halloween!! :)
(Bear with me as this post may be a little long.)
Friday night, the city of Fairborn was hosting a scavenger hunt to the Mortician's Ball, and you had to be dressed as your favorite dead person, or create an original costume. So like any other group of respectable people, my friends and Zach and I got dressed up and went around downtown Fairborn looking for the Ball.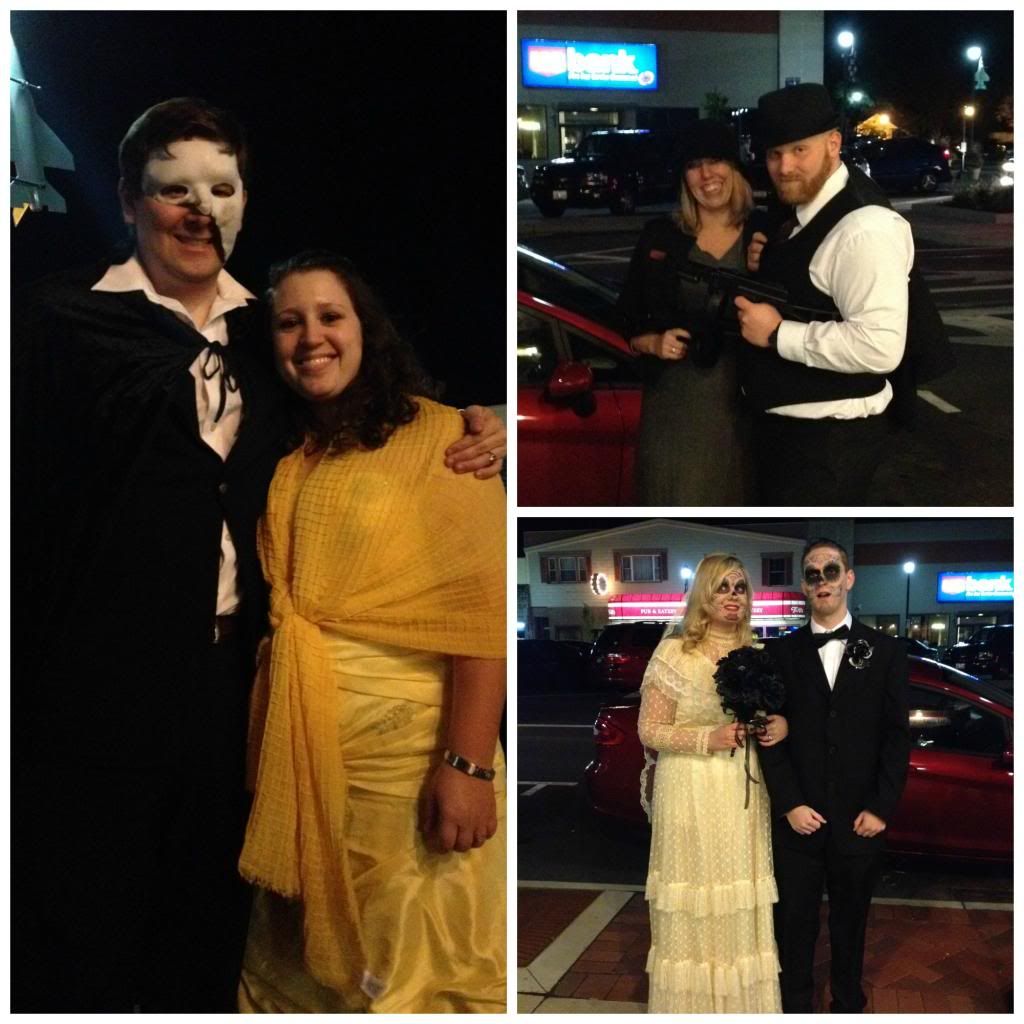 Zach and I were The Phantom and Christine, a few of our friends were Bonnie and Clyde, and a Day of the Dead Bride and Groom.
Our other friends were Walter White and Kurt Cobain. Another one of our friends was with us, but I didn't get a good picture of her costume, and she was dressed as her dead childhood.
The scavenger hunt was so much fun! The only thing was that it was really cold outside and I only had my scarf as a cover. Let me tell you, I was so excited when we finally found the Ball.
And then the disappointment set in...
We arrived at the Ball and it was in a theatre. People were sitting in the chairs just chatting, like they were waiting for a show to start. But there wasn't a show. At the front of the chairs was a table where you could guess the number of body parts in the jar.
Then there was a costume contest. They had three categories of costumes: famous dead people, literary dead people, and original dead people. Bonnie and Clyde won first place in the famous category, and The Phantom won second place. The bride and groom were the only ones in the original category, and won both first and second prizes.
And that was it.
The Ball was over.
I don't know about you, but when I hear that there's going to be a Ball, I think of a dance, or party. I was
SUPER
disappointed. And hungry. So we all went to TGI Friday's.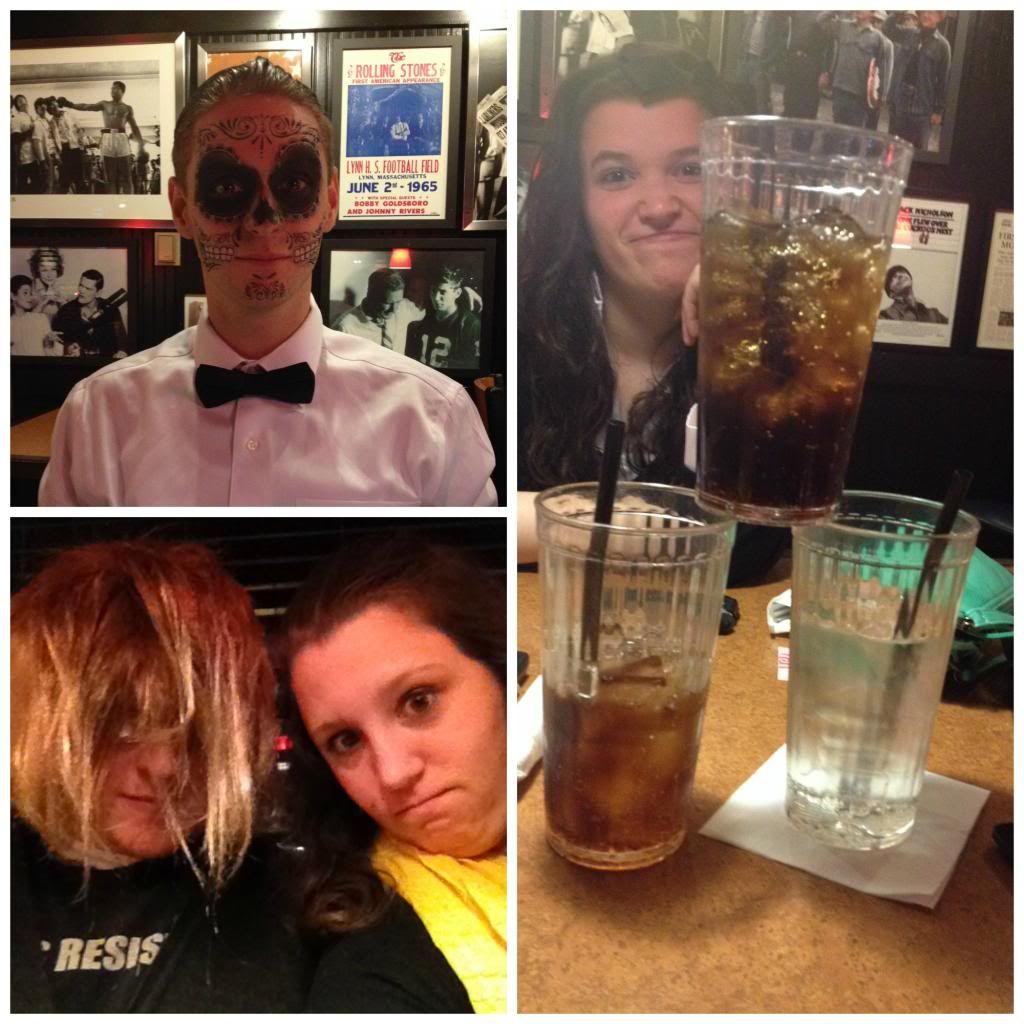 Groom. Goofing off with Kurt Cobain. Stacking glasses.
While we were all eating Zach suggested having another scavenger hunt. So we planned one for Sunday evening.
***
We all met at our friend's house and separated into two teams and wrote out the clues for the other team. Zach and I came up with the final clue, since we were both on different teams and we were the two honest ones of our teams. Most of the clues were at a local university that Zach goes to, and the last clue was in downtown Fairborn, 10 minutes away.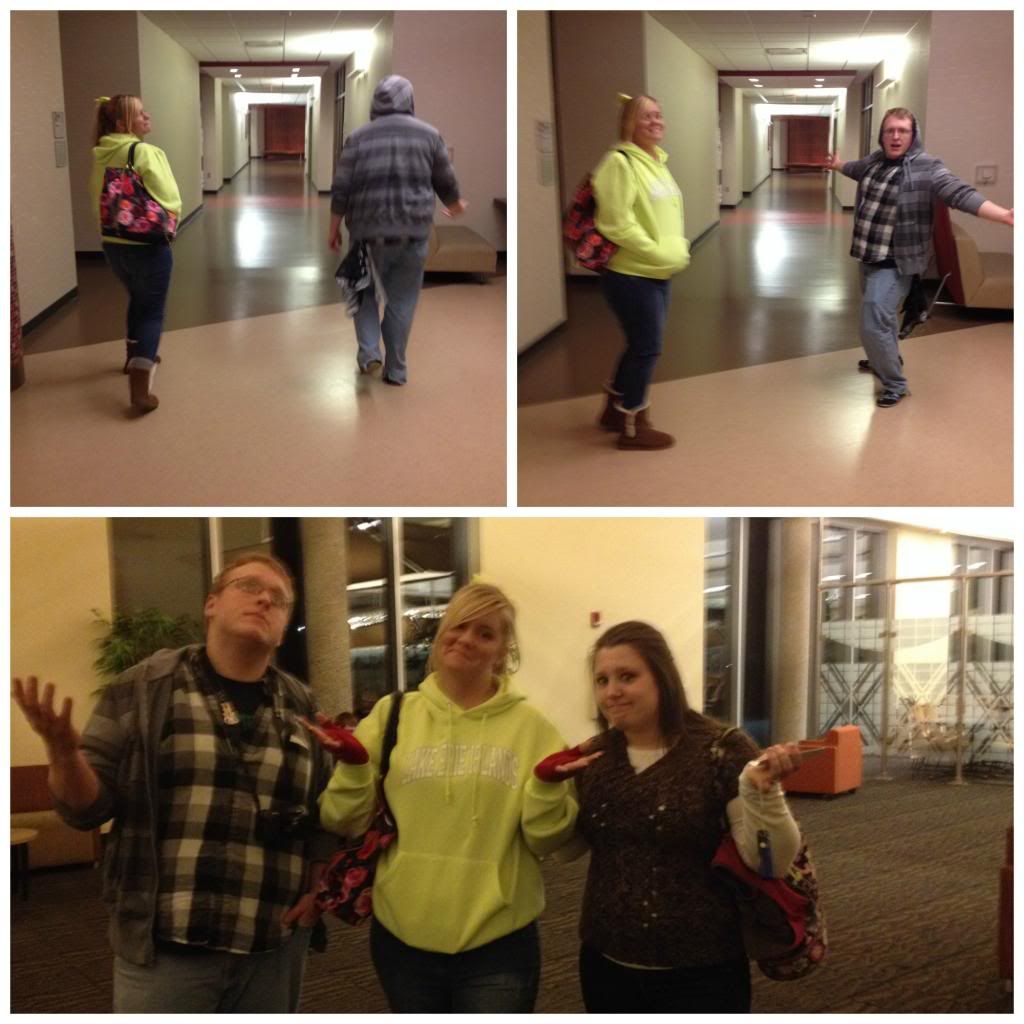 Where is the piano?
The first clue, we knew what we were looking for, and it wasn't there anymore. As we were doing the hunt, we all decided we would take a picture of us with the answer and tweet it, so the other team knew they had found it.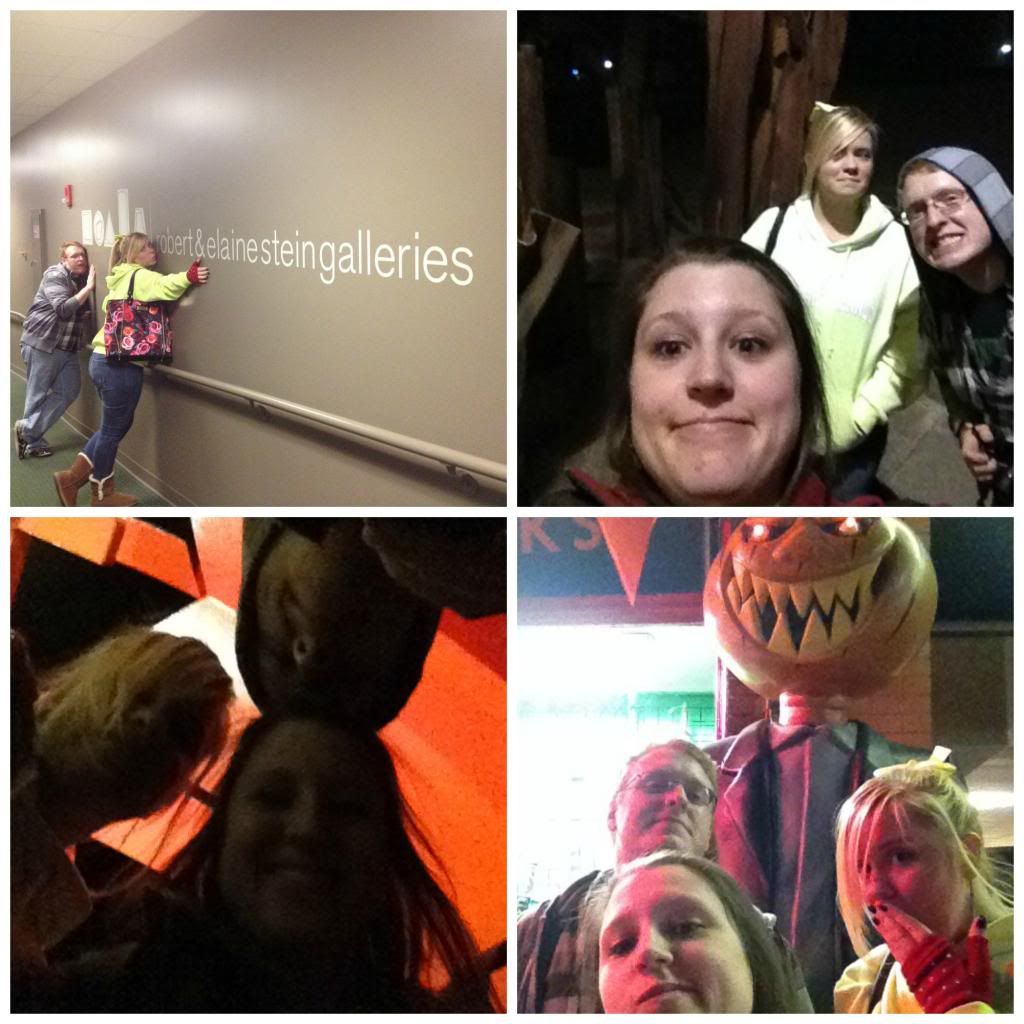 The galleries. Bacon! B.A.R.T. Fairborn
The other team beat us, even though they didn't tweet about it. But we went inside and there was an electrocution that was about to take place, (a prop for the season) so they let us all behind the rope. Halfway through the electrocution, they stopped it right before the dummy got electrocuted and our friend got on one knee and proposed! It was so neat! His words when they stopped it were "The real shock is this..."
The rest of us were off to the side holding pumpkins that said "Will you marry me?" It was so sweet!!
And of course she said yes!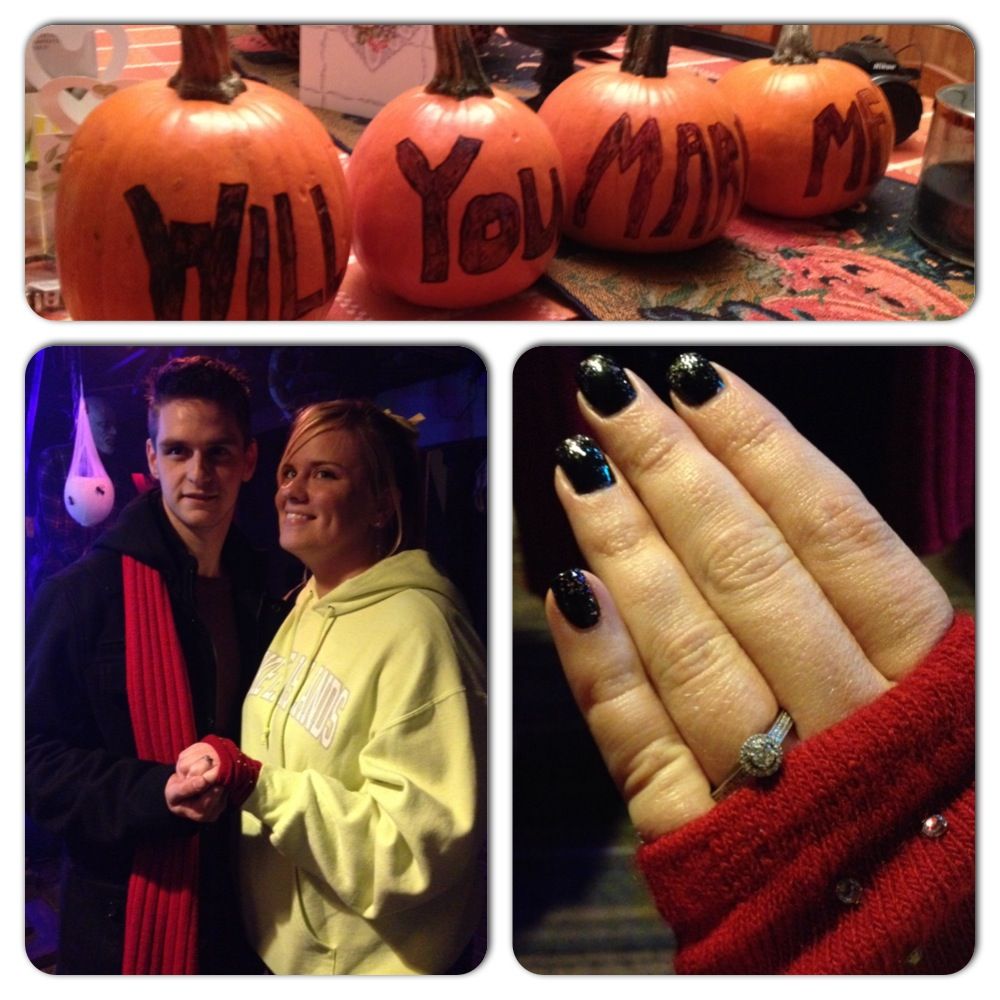 After that, they finished the electrocution, and we left. We went back to her house, where she told her parents, and then went to eat at Steak N Shake.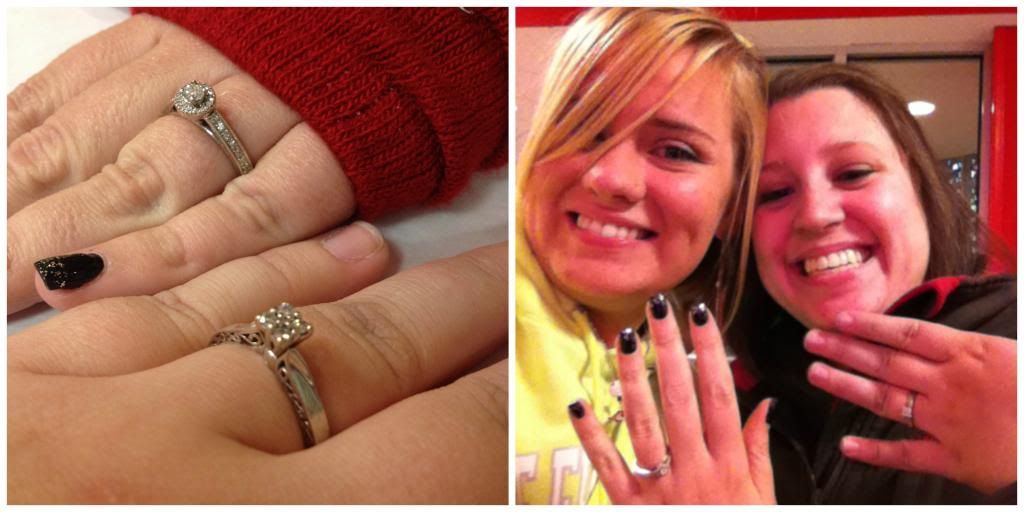 We're both now part of the e-club!!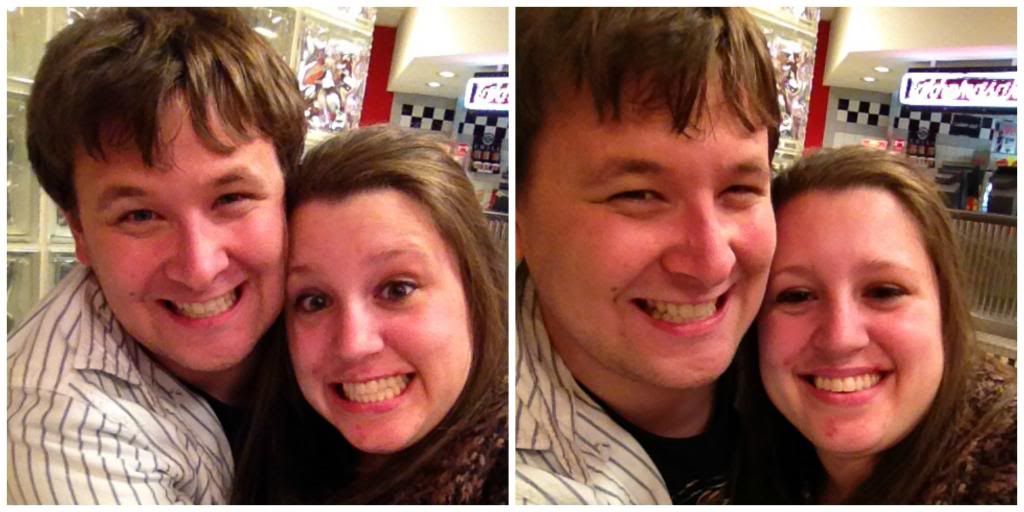 And of course I had to get some of my and my love!
*A few things to note:
-The scavenger hunt idea was originally his idea, but he wanted Zach to bring it up so she wouldn't get suspicious. He had been talking to Zach for at least a week about planning this.
-Earlier that day, I had taken her shopping so he could plan everything. She wanted him to come along, but I pretended I got into a fight with my dad and didn't want to be around men, so that he could stay behind and plan.
-Everyone who participated in the scavenger hunt knew about the proposal except her. And she was completely shocked.
-The other team didn't actually finish the scavenger hunt because they wanted to beat us there and get things ready for the proposal.
-All day while we were shopping, I wanted so badly to talk to her about what was going on that night.
Both scavenger hunts were fun, but I definitely enjoyed Sunday's better than Friday's. ;)