Hello, my lovely readers! How are you on this fine day? Me? I'm doing swell!
Ok, I'm done here.
But seriously. How is your day going? Mine's going pretty well, so far. My dear friend Rachael nominated me for the Sunshine Award!
The idea of the award is to nominate 10 bloggers whose posts brighten your day.
1. Include the award logo in your post. Check!
2. Link to the person who nominated you. Check!
3. Answer 10 questions about yourself.
4. Nominate 10 bloggers to receive the award. Link the nominees to your post and notify them!
Questions from Rachael:
1. Tell me about the first pet you ever owned, or if you never had one what your dream pet would be!
My first pet was my dear Shadow. He was a beautiful black long haired cat. And I miss him dearly.
2. What is the sneakiest thing you did as a child that your parents never found out about?
When I was a kid, I wanted the Kid Sister doll so bad for Christmas. My mom had our presents wrapped under the tree the week before Christmas. One night her and my stepdad had gone out. I was really anxious to find out if she got me Kid Sister, so very carefully, I had taken scissors and cut the tape on a big present to me. I was so excited to see it was Kid Sister!! I then took the tape and retaped the gift back so it looked like it did when my mom wrapped it. When I really opened it on Christmas morning, I acted so happy to finally have my own Kid Sister. I did tell my mom a couple of years ago about this and she was just like "Really, Jess?"
3. Wine and cheese or beer and a burger?
How about a strawberry margarita and a burger? I don't like beer, and wine and cheese is too fancy for me. :)
4. Extreme destination: the Sahara desert or Antarctica?
Oh wow, this one is tough. I don't know which one I would choose. Maybe Antarctica?
5. What is one little quirk you have?
When I go to sleep at night, all the doors have to be closed. Closet doors and bedroom door.
6. What electronic device do you (guiltily) admit that you cannot live without?
My cell phone. No question.
7. Favorite breakfast food?
Cereal. I love Cap'n Crunch, Cinnamon Toast Crunch, and Honey Nut Cheerios.
8. What is something you look for more than anything in a friend?
A great personality. I like it when I have things in common with my friends and we can laugh and make fun of the same things.
9. You get to write a book and have 1 million copies published. What would it be about?
I would want to write a bestselling novel. I don't know what it would be about, but it would be a good one! ;)
10. Tell us about how you started blogging!
I started this blog to write about my life. I knew when I started this blog, that Zach and I would eventually get engaged and start our lives together and I wanted to document that, among other random life moments.
Nominations:
EVERYONE!! It's too difficult to try and narrow down who's posts brighten my day the most. ;)
And then.....!!!!
She nominated me for the Versatile Blogger Award!!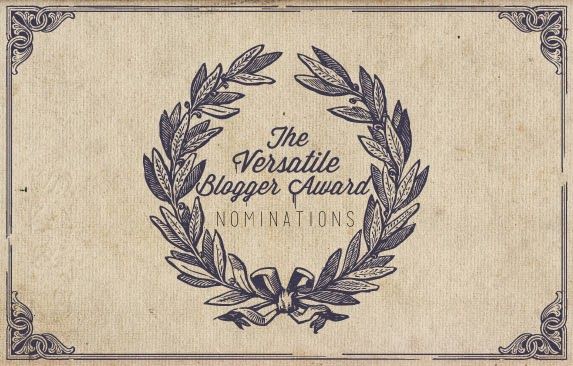 The Versatile Blogger Award is an award given to you from blogger peers, for writing quality blogs that have touched them in some way, having good quality photographs, and the uniqueness of the subjects covered. The Versatile Blogger Award is to honor the bloggers who bring something special to your life.
1.
Display The Versatile Award Certificate on your blog. Check!
2.
Announce your win and thank the blogger who nominated you. Check!
3.
Present 15 deserving bloggers with the award. Link your nominees in this post and leave a comment on their blog notifying them of their nomination.
4.
Post 7 interesting things about yourself.
7 interesting things about me:
1. I have a thing for mermaids.
2. There are days where I just want to have a Disney movie marathon.
3. I actually don't mind working in retail.
4. I canNOT WAIT to be Mrs. Zachary Moore!
5. I've been thinking about a weight loss/health journey I want to do for me.
6. Zach and I will be living together before we get married.
7. If Full House is on TV, it trumps anything else that is on.
Nominations:Again, this is for
EVERYONE!!
It's too difficult to try and narrow down the bloggers who bring something special to me.